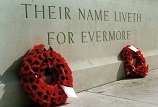 St Mary's has nine Commonwealth War Graves in the churchyard. There are two World War I graves in the main part of the graveyard, and seven World War II graves in the newer burial ground.
Please follow the link here to the article written by local historian Mike Allen about the war graves.
Of course, these are not the only fallen soldiers from the parish and Mike Allen has also written an article about the "Mighty Men of Mymms" who died in World War I. Follow the link here.
To visit the Commonwealth War Graves Commission website to see details of war graves at St Marys click here.